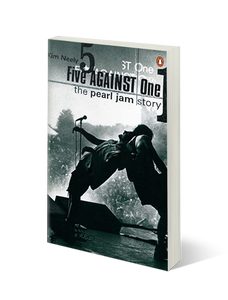 Product Details
Product:
Five Against One: The Pearl Jam Story by Kim Neely
Publisher:
Penguin Publishing Group
Product Description
About Five Against One: The Pearl Jam Story by Kim Neely
Pearl Jam reached immediate success when their first album Ten went platinum worldwide, causing some heads to spin. None were shaken more than the band and lead singer Eddie Vedder. Pearl Jam quickly developed an image resenting their own success, where their distaste for the new attention became tasteful to fans worldwide. In the process, the alternative music scene was born.
Rolling Stone journalist Kim Neely was an early fan and one of Pearl Jam's first advocates in the press. She had the honor of interviewing the band and Vedder throughout their early years, and wove together Five Against One to tell the story of their struggles in the spotlight.
Neely provides a particularly intimate view into Eddie's inner life, chronicling his upbringing and struggles with his family while he rose to international fame. Five Against One is a must-read for fans who want to see behind the curtain of success that shadowed the tumult of Pearl Jam in the 90s.
Browse More Pearl Jam History Books

Check out more Pearl Jam history books that any fan will love: