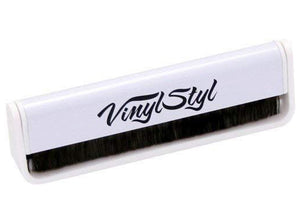 Product Details
Product:
Vinyl Styl™ Anti-static Record Brush
Product Description
Buy one Vinyl Styl™ Anti-static Record Brush to protect and clean your vinyl album cover.
If you're buying a new vinyl record to add to your collection, be sure to keep it safe with our Vinyl Styl Ultimate Vinyl Record Care Kit.
Vinyl Styl Anti-static Brush will keep your vintage vinyl sounding great and your new releases in pristine shape for years to come. 
Need more vinyl accessories? Binaural Records carries a wide range of vinyl record accessories and cleaning supplies from brands like Vinyl Vac, Big Fudge and more.