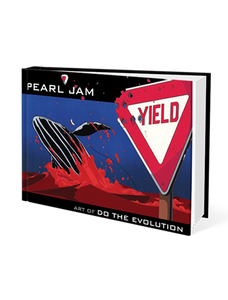 Product Details
Product:
Pearl Jam: Art of Do The Evolution by Joe Pearson
Publisher:
IDW Publishing
Product Description
You've seen the Grammy-nominated music video for Pearl Jam's hit single "Do The Evolution" off its 1998 album Yield, and you know it's heart-stopping power as it flashes scenes of doomsday before your eyes. In just four minutes, the entire world evolves, transforms, and explodes, leaving your jaw dropped while you stare at Death as she dances.
If you've seen this Pearl Jam video, it undoubtedly left an impression on you. And if you want to see more, you have to read Joe Pearson's Art of Do The Evolution, where he walks you through the video's production, step-by-step. Pearson's book pulls back the curtain and shows you the enormity of the details covered in the stages over its rapid 16-week creation.
As the video's co-producer, Pearson's perspective on the process is unlike any other. He highlights all the details and the thought process as they came together to produce one of the greatest music videos of all time. Art of Do The Evolution is a must-read for art buffs and Pearl Jam fans alike.