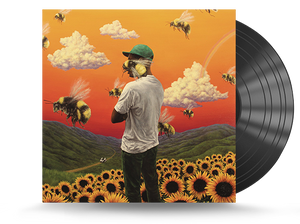 Product Details
Product:
Tyler, The Creator - Flower Boy Vinyl LP (889854690519)
Catalog Number:
889854690519
Record Label:
Columbia Records
Product Description
This album is a 2017 pressing of Flower Boy Vinyl LP by Tyler, The Creator.
FLOWER BOY, is the new and long awaited album from Tyler, The Creator. The album follows up 2015's Cherry Bomb
The media of this Hip Hop vinyl album is new in Mint condition. In its original factory seal, the gatefold album cover is in Mint condition with no major visible wear.
This all analog 150g pressing of Tyler, The Creator - Flower Boy Vinyl LP (889854690519) was released by Columbia Records
Tyler, The Creator - Flower Boy Vinyl LP Track Listing
Foreword
Where This Flower Blooms
Sometimes
See You Again
Who Dat boy
Pothole
Garden Shed
Boredom
i Ain't Got Time!
911/ Mr. Lonely
Droppin' Seeds
November
Glitter
Enjoy Right Now, Today