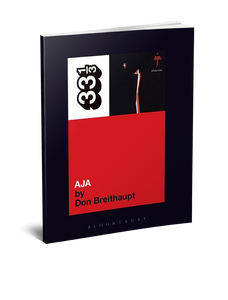 Product Details
Product:
Steely Dan's Aja (33 1/3 Book Series) by Don Breithaupt
Publisher:
Bloomsbury Academic Publishing
Product Description
Aja was the album that made Steely Dan a commercial force on the order of contemporaries like Fleetwood Mac, the Eagles and Chicago. A double-platinum, Grammy-winning bestseller, it lingered on the Billboard charts for more than a year and spawned three hit singles. Odd, then, that its creators saw it as an "ambitious, extended" work, the apotheosis of their anti-rock, anti-band, anti-glamour aesthetic.
Populated by thirty-five mostly jazz session players, Aja served up prewar song forms, mixed meters and extended solos to a generation whose idea of pop daring was Paul letting Linda sing lead once in a while. And, impossibly, it sold. Including an in-depth interview with Donald Fagen, this book paints a detailed picture of the making of a masterpiece.