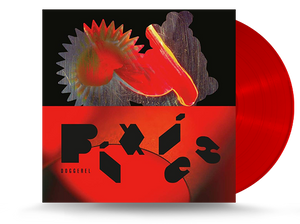 Product Details
Product:
Pixies - Doggerel Vinyl LP (4050538806854)
Catalog Number:
4050538806854
Record Label:
Infectious Music
Product Description
This album is a 2022 pressing of Pixies - Doggerel Vinyl LP available for Pre-order.
The renowned Pixies helped pave the way for alt-rock during their initial run, but since reuniting in 2004, they have embraced more complex dark arts, adding three more UK Top 10 albums to the three they already had. Pixies, who are currently more motivated than ever, will release their eighth studio album, "Doggerel," via BMG, which includes the lead track "There's a Moon On."
"Doggerel" is a sophisticated yet visceral album of grisly folk, ballroom pop, and savage rock that is haunted by the ghosts of relationships and vices, driven berserk by cosmic forces, and imagines digital afterlives in places where there is no God.
The media of this Alternative Rock vinyl album is new in Mint condition. In its original factory seal, the gatefold album cover is in Mint condition with no major visible wear.
This pressing of Pixies - Doggerel Vinyl LP (4050538806854) was released by Infectious Music in a Limited Edition Red Vinyl.
Pixies - Doggerel Vinyl LP Track Listing
Nomatterday
Vault of Heaven
Dregs of the Wine
Haunted House
Get Simulated
The Lord Has Come Back Today
Thunder and Lightning
There's A Moon On
Pagan Man
Who's More Sorry Now?
You're Such A Sadducee
Doggerel