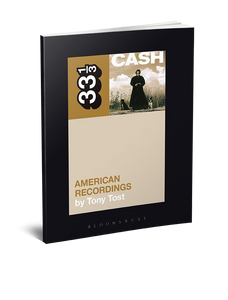 Product Details
Product:
Johnny Cash's American Recordings (33 1/3 Book Series) by Tony Tost
Publisher:
Bloomsbury Academic Publishing
Product Description
When Johnny Cash signed to Rick Rubin's record label in 1993, he was already in the wax museum of memory, a fondly regarded but totally marginalized legend, unheard on the radio and unseen on the charts. His odyssey from oldies act to folk hero depended entirely on his first American Recordings album, a record of uncompromising directness.
Tony Tost digs into the worlds of American Recordings, showing it to be the crossroads where cultural, spiritual and mythic forces came together, reanimating and revitalizing The Man in Black. Tost has written a guidebook to myth and mystery, revealing the stark, often hidden terrains of Johnny Cash's greatest album. American Recordings: the sound of history singing to itself. American Recordings: the secret ache of the old, weird American. American Recordings: a man alone with the silence and darkness, buying back his soul, one song at a time.