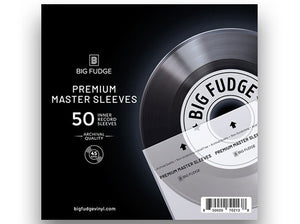 Product Details
Product:
Big Fudge 7-Inch Premium Master Archival Quality Inner Record Sleeves (50 ct.)
Brand:
Product Type:
Fits:
Material:
3-Ply Polyethylene & Archival Rice Paper
Product Description
Buy Big Fudge 7-Inch 45 RPM Vinyl Record Premium Master Inner Sleeves  to give your vinyl the protection it needs.
If you're buying new vinyl records to add to your collection, be sure to keep them safe with Big Fudge 7-Inch 45RPM Vinyl Record Premium Master Inner Sleeves. It has 50 Acid Free Record Inner sleeves to protect your 7" Singles
Big Fudge Premium inner vinyl sleeves feature protective 3-Ply Polyethylene on one side and Archival Rice Paper on the other. The negative ion technology reduces friction and repels dust for lasting protection.
While you're protecting your 7-inch vinyl, don't forget to grab Big Fudge 12-Inch Premium Master Sleeves to protect your LP vinyl!

Browse More Vinyl Record Sleeves
Any serious vinyl collector knows that protecting your records and album covers is essential for the longevity and value of your precious vinyl. That's why we carry a wide range of vinyl record accessories and sleeves, including: