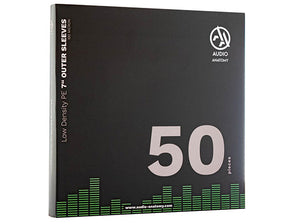 Product Details
Product:
Audio Anatomy - 50X 7" PP Crystal Clear Outer Sleeves 90 MICRON (I99AC056AA)
Material:
High Density Polypropylene
Product Description
Buy 50X 7" PP Crystal Clear Outer Sleeves (90 MICRON) for vinyl records to stay in perfect condition.
The record outer sleeves from Audio Anatomy are the indispensable accessory for every record collector.
Made in the EU from certified PVC, they protect easily and efficiently against dust, fingerprints and moisture and thus ensure improved sound quality and an extension of the service life of the record and outer shell.
Need more vinyl accessories? Binaural Records carries a wide range of vinyl record accessories and cleaning supplies from brands like Vinyl Vac, Vinyl Styl, Big Fudge and more.