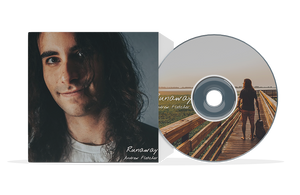 Product Details
Product:
Andrew Fletcher - Runaway CD (196621432907)
Catalog Number:
196621432907
Record Label:
Self Released
Product Description
This album is a 2021 release of Runaway CD by Andrew Fletcher.
The media on this Indie Rock CD album is new in Mint condition. In its original factory seal, the album cover is in Mint condition with no major visible wear.
"Runaway" tells a story of heartbreak and moving on in reverse, transforming it into a cathartic search for dignity in traumatic memories. Bittersweetly untangling the threads, Andrew recollects stories and themes that have challenged those around him throughout his entire life, including suicide, abuse, and loneliness. Each song pulls at the knots that once held a failing relationship together, until they finally snap and release in a melancholy redemption of solitude.
This Andrew Fletcher - Runaway CD was self released.
Andrew Fletcher - Runaway CD Track Listing
Unravel & Unwind
Whispering
Please Don't Lie
Lost
Stella
Again
Fly (In Memory Of Friends)
Upon The Waves
Disappear
Runaway