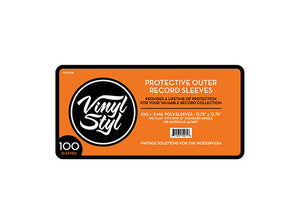 Product Details
Product:
Vinyl Styl™ 12-inch Clear Outer Record Sleeve 100CT
Material:
Durable Polyethylene
Product Description
Buy Protective Outer Record Sleeves to give your vinyl the protection it needs.
If you're buying new vinyl records to add to your collection, be sure to keep it safe with Protective Outer Record Sleeves - 100CT. Made from clear, acid-free, inert, Polyethylene.
Our Protective Outer Record Sleeves - 100CT is designed to fit one 12" record or one gatefold 2LP set. This Protective Outer Sleeves are 12.75" x 12.75" and constructed of durable 3 millimeter polyethylene, open top, no lip 100 count.
Need more vinyl accessories? Binaural Records carries a wide range of vinyl record accessories and cleaning supplies from brands like Vinyl Vac, Big Fudge and more.