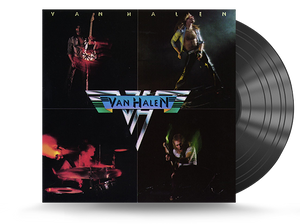 Product Details
Product:
Van Halen Van Halen (180 Gram Vinyl, Remastered) Vinyl
Product Description
Van Halen: David Lee Roth (vocals); Eddie Van Halen (guitar, background vocals); Michael Anthony (bass, background vocals); Alex Van Halen (drums, background vocals).
Recorded at Sunset Sound Recorders, Hollywood, California in 1978.
In 1978, Pasadena's Van Halen released its debut album and shook the rock world to its foundations. VAN HALEN, featuring the fiery fretwork of Eddie Van Halen, and the talented howling of David Lee Roth, gave a kick-start to the moribund heavy rock genre. As Kiss turned disco and Black Sabbath sank in a morass of drugs and alcohol, Van Halen adopted a blues base, added a metal sheen, and created a sound that remains influential today.
Michael Anthony's thumping bass line, followed by Alex Van Halen's hi-hat and Eddie Van Halen's first chord, heralds "Runnin' With the Devil," Roth's tale of excess. "Eruption" follows, the guitar solo here a breakthrough in speed and creativity. In addition Van Halen takes the Kinks' classic "You Really Got Me" to new heights on its metal version. The melodic structure remains intact, while the band adds crunch and Diamond Dave's sexy patter. Including the catchy "Jamie's Cryin'" and bluesy "Ice Cream Man", there is absolutely no filler on VAN HALEN, one of the finest rookie efforts by a musical act.
RSD Release Date: n/a
Released: 03/31/2015
Genre: Pop
Format: Vinyl