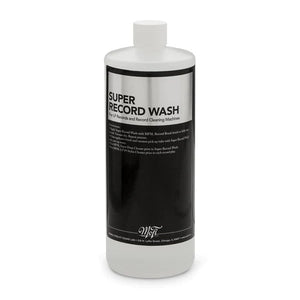 Product Details
Product:
Mobile Fidelity - Super Record Wash 32Oz (MOFY7777087)
Product Description
Buy Mobile Fidelity - Super Record Wash 32Oz for vinyl records to stay in perfect condition.
This is the absolute best one-step record cleaning fluid for use with any record cleaning machine or any manual hand-cleaning system.
The Mobile Fidelity Super Record Wash incorporates non-toxic, natural degreasers and dirt solvents in combination with quadruple-distilled, hyper-pure water base. MoFi Super Record Wash will keep your records sounding quiet and looking great!
Need more vinyl accessories? Binaural Records carries a wide range of vinyl record accessories and cleaning supplies from brands like Vinyl Vac, Vinyl Styl, Big Fudge and more.