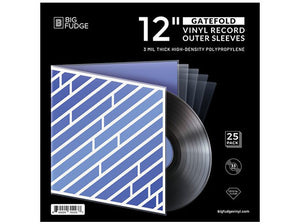 Product Details
Product:
Big Fudge 12-Inch Vinyl Gatefold Album Outer Sleeves (25 ct.)
Brand:
Product Type:
Fits:
Material:
High Density Polypropylene
Product Description
Protect your precious double LPs with Big Fudge's 12-Inch Gatefold Outer Sleeves. Available in 25 packs, Big Fudge 12-Inch Gatefold Outer Sleeves are perfect for your double-LP gatefold albums.
Big Fudge 12-Inch Gatefold Album Outer Sleeves are:
Durable - made from wrinkle-free 3 millimeter thick high density polypropylene
Transparent - clear, they don't cloud easily unlike polyethylene outer sleeves
The Right Fit - measuring 12.75" x 12.75", they fit any standard oversized LP
While you keep your oversized 2 LP vinyl protected with Big Fudge Gatefold Album Sleeves, don't forget your LPs and singles! We also carry Big Fudge's 12-inch and 7-Inch outer sleeves.

Check Out More Protective Vinyl Record Sleeves
Any dedicated record collector knows protecting your vinyl records and their album covers preserves the quality and value of your vinyl. That's why Binaural stocks a variety of vinyl LP accessories and protective record sleeves, including: